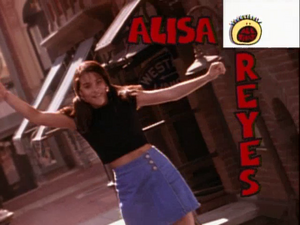 Alisa Reyes was a cast member for Seasons 1-3. Following All That, she is best known for voicing LaCienega Boulevardez on The Proud Family .
Characters
Edit
Picture
Character

Kiki

A peppy and clueless Island Girl. She is very obnoxious and drives everyone nuts, especially Fran (Lori Beth Denberg). Her sister is Didi (Katrina Johnson). Her catchphrase is singing "Forever and ever and ever and ever..." Kiki first appeared in Season Two in Episode 217 - Monica.

Rash

The bassist for Bacteria. Rash first appeared in Season Two in Episode 222 - Monteco.

Baggin' Saggin' Marry

Was once Baggin' Saggin Barry's rival, but they eventually fell in love and got married.

Penny Lane

Superdude's girlfriend. She would often unintentionally give Marc's bullies advice such as "you're not going to push him into that display of tomatoes, are you?" The role was originally played by Angelique Bates during Season One and Season Two, but took over during Season Three following Angelique's departure. Christy Knowings took over the role for Season Four and Season Five.

Chuck Maroon

Daughter of the Maroons and brother of Lump Maroon.

Susumi

Communications officer of the USS Spaceship.
External links
Edit